The diverse capabilities, location and workforce of Gulf Unmanned Systems Center, LLC (GUSC) provides opportunities to create solutions for today's challenges.
Capabilities Overview:
Littoral
Riverine
Jungle
Harbor Security
Sub-Surface
Large Land Mass
Types of Testing:
Unmanned Surface Vehicles (USV)
Unmanned Underwater Vehicles (UUV)
Unmanned Ground Vehicles (UGV)
Unmanned Aerial Vehicles (UAV)
Homeland Defense
Agriculture/ Aquaculture/ Oceanography
Search and Rescue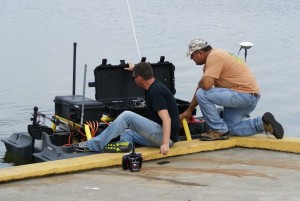 Challenge: How can we perform testing and surveying at phosphate pits, without potential harm to humans?
Solution: Design an Unmanned Surface Vehicle (USV) to perform the requirements.
Call (850) 720-1500 to discuss solutions to your company's challenges.